Google tests a new short videos carousel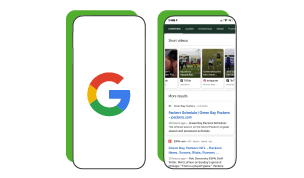 Short-form videos are "in style" right now. You know it, we know it and Google knows it too!
To ride the trend, Google is now testing a new short videos carousel that will surface in certain search results and include direct links to TikTok & Instagram Reels video clips.
To explain the new feature, TechCrunch had this to say:
"Google is testing a new feature that will surface Instagram and TikTok videos in their own dedicated carousel in the Google app for mobile devices — a move that could help the company retain users in search of social video entertainment from fully leaving Google's platform. The feature itself expands on a test launched earlier this year, where Google had first introduced a carousel of "Short Videos" within Google Discover — the personalized feed found in the Google mobile app and to the left of the home screen on some Android devices."
If this feature succeeds, it will definitely encourage brands to update their content plans to include short videos in order to be in line with what's trending and benefit from Google's expanded reach – not just the native social media platforms large audience base.
We also predict that Google will include YouTube's Shorts in the near future as it expands the new carousel functionality. 
Learn more here.