Instagram launches an updated full-screen main feed test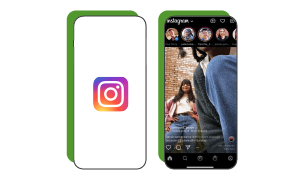 Another day, another way to exceed TikTok. Or maybe try to.
Instagram is updating its full-screen main feed where it will expand Reels, videos, and static images into a nearly full-height swipeable experience. The navigation bar, description and Instagram logo will be overlayed on the content, just like the TikTok display.
This feature is in line with what Instagram's CEO said in December 2021 about videos being the core focus of the app in 2022. But Mark Zuckerberg also mentioned this update in his Story highlighting that 'photos are still an important part of Instagram'. So, they're looking for new ways to display them, hence, the update.
Although not available to all users yet, more people will be seeing it soon.
Learn more here.