Snapchat subscription is now a thing!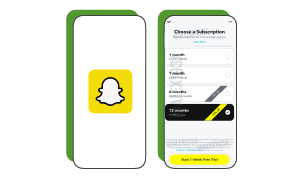 Snapchat has been facing revenue pressure and has been looking for new monetization plans. The platform is experimenting with a new premium subscription service that would give users access to exclusive features and tools; Snapchat+.
The subscription comes with different pricing options including a free trial for a week. The exclusive features include:
Access to exclusive Snapchat icons.
A new profile badge to show that you're a Snapchat+ user.
New data insights, including the capacity to see your friends' location history (over the last 24 hours) and info on who's rewatched your Story.
The capacity to pin a user in the app as your '#1 BFF'.
According to Snapchat, the feature is still in its early phases and will change a lot once released:
'We're doing early internal testing of Snapchat+, a new subscription service for Snapchatters. We're excited about the potential to share exclusive, experimental, and pre-release features with our subscribers, and learn more about how we can best serve our community.'
Twitter did it.
YouTube did it.
Snapchat is testing it.
Instagram is testing it.
Who's next?
Learn more here.