Instagram launches caption translation on Stories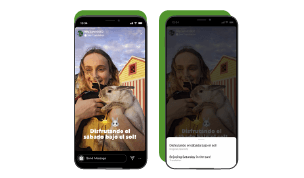 Instagram (and Facebook in general) has had a pretty straightforward strategy towards multilanguage content: making sure everyone can understand it. From instant translations to dynamic language, the Menlo Park giant has always been pioneering tools that allow for seamless multicultural understanding.
The new caption translation feature follows the same line. With the tool, users can now tap on the 'See Translation' button on the top left corner to automatically translate the captions of IG Stories—a great step forward for accessibility.
The feature currently supports over 90 languages, but more will be included in the near future.
Learn more here