Instagram rolls out 'False Information' label
False news travels faster than a hungry cheetah chasing a prey!
To avoid the spread of fake news, Instagram is rolling out a new 'False Information' label for both Stories and News Feed posts.
Here is the social media giant's comment on the matter:
"Over the next month, content across Facebook and Instagram that has been rated false or partly false by a third-party fact-checker will start to be more prominently labeled so that people can better decide for themselves what to read, trust and share. The labels below will be shown on top of false and partly false photos and videos, including on top of Stories content on Instagram, and will link out to the assessment from the fact-checker."
Additionally, a new "False Information in Post" prompt will show when users share posts that have been deemed as false by Instagram's third-part fact-checkers. Here is a preview of these pop-up notifications: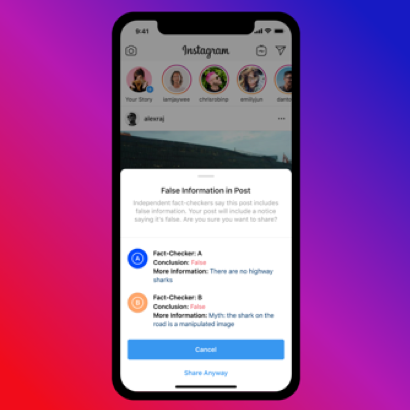 These new labels are one of the many other processes that Facebook is aggressively implementing to reduce the spread of viral misinformation across its platforms.
Read more here.