Instagram rolls out 'Profile Embed'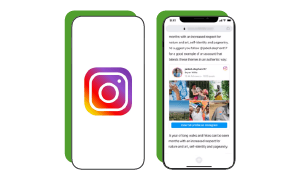 Instagram users can now embed a mini version of their profile on third-party websites, offering them a catchy way to promote their profiles beyond the app. The profile embed will include the user's username, profile picture, and a few of their most recent posts.
As explained by Instagram chief Adam Mosseri:
"You've been able to embed an Instagram photo or Instagram video into a website for many years now. This extends on that idea and allows you to embed a miniature version of your Instagram profile on a website. Maybe you want to showcase your Instagram content on a website somewhere, or link to someone else's."
This feature will be useful to Instagram creators as they will now be able to offer a sneak-peak to their profile if they are to be highlighted on other websites. Furthermore, it will also be an eye-catching way to promote brands' Instagram profiles, even if it is on their own website.
This feature is exclusive to US users at this stage.
Learn more here