Twitter now has auto-caption for videos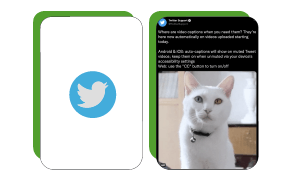 Twitter has announced that it is adding automatic captions for all videos uploaded on the platform moving forward – a move that is meant to boost video consumption.
Adding these captions will likely capture users' attention as they will directly be shown in muted in-stream videos on iOS and Android. Desktop users can choose if they want to view them by tapping on the 'CC' button.
Furthermore, this will undoubtedly be a useful feature for the deaf and/or hard of hearing, as they will now be able to engage with content that was previously inaccessible (unless it had embedded subtitles).
The auto-captions are available in 37 different languages and will automatically appear in the language of the uploading device. Limitations of this feature, however, include the inability to translate or edit the auto-text, as both are features still in the development stage.
Learn more here.