Instagram tests more subscription-based features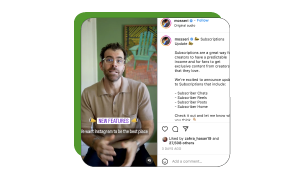 Instagram is trying to outperform its biggest competitor, TikTok, by sweetening its deals for creators and giving them new means to earn money.
Instagram has announced that it is adding more subscription-based features to help creators have a sustainable income from their platform presence.
The new features include Subscriber Chats, Subscriber Reels, Subscriber Posts, and Subscriber Home. They will offer paying followers a more intimate connection with their favorite creators and exclusive content.
Some content creators are excited to try out the new features, whereas others are complaining that their organic reach is continuously dropping.
Assuming it's doable soon, would you pay to access your favorite content creators' posts?
Learn more here.