Instagram tests vertical feed for Stories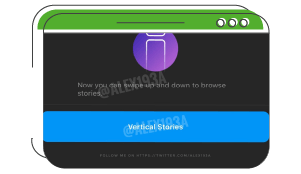 In a typical Instagram move, the platform is now internally testing a TikTok-like vertical feed for Stories.
Aiming to latch onto growing usage trends, the vertical Stories feed will allow users to swipe up & down to browse Instagram Stories, which is a major shift from the current taps and horizontal swipes – a previous Snapchat-copycat functionality.
According to TechCrunch, this move will also have a significant impact on content formats, where it says:
"Turning Instagram Stories into a vertical feed would be a notable change, and one that could potentially set the stage for a shift away from more static content — like the photos and reshared Feed posts that still often fill the Stories section today. In a "Vertical Stories" feed, on the other hand, Instagram would likely prioritize video posts over images to better compete with TikTok, just as it's currently tweaking its algorithms and overall design to prioritize Reels. (A turn of the dials that has already been leveraged by indie creators to significantly grow their followings, in fact)."
While the feature is not out to the public yet, you can start training your fingers for the swipe up and down upcoming browsing experience!
Learn more here.