Twitter launches Birdwatch, a crowdsourced misinformation platform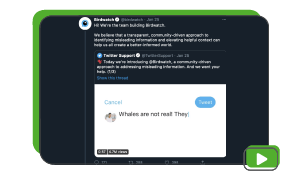 First spotted in October last year, Birdwatch is probably one of the most audacious ideas from Twitter to tackle misinformation. One of the problems with misinformation is that it can be so pervasive and take so many forms that it has become a burden for social media platforms to be solely responsible for managing it. Especially if the platform lacks the expertise to identify misinformation from within specific cultural and political contexts.
That's why Twitter decided to explore a better approach: crowdsourcing—the driving force behind Birdwatch. By asking those involved and affected by misinformation, which at this point is probably everyone, to flag tweets with fake news, Twitter has found an innovative alternative.
According to Twitter:
Birdwatch allows people to identify information in Tweets they believe is misleading and write notes that provide informative context. We believe this approach has the potential to respond quickly when misleading information spreads, adding context that people trust and find valuable. Eventually we aim to make notes visible directly on Tweets for the global Twitter audience, when there is consensus from a broad and diverse set of contributors.
Learn more here.