LinkedIn to launch new marketplace for freelancers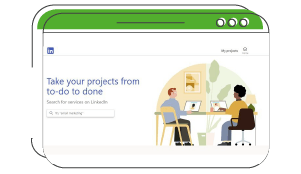 Working from home has become a mainstay all over the world for almost a year now—its advantages and convenience finally accepted by even the most traditional employers.
Seeking to capitalize on the booming freelancer market, which has most benefited from the new labor trend, LinkedIn is reportedly developing a freelancer platform of its own. Called "Marketplaces", the platform will allow freelancers to advertise their services and clients to connect with them.
According to a report by The Information, LinkedIn is taking fundamental features from their competitors in the development of the new platform:
LinkedIn Marketplaces is expected to look similar to Fiverr, which lets customers shop around for services and compare rates, said one of the people with knowledge of the new service. Marketplaces will also allow users to post their own proposals to attract freelancers, similar to what Upwork does. Customers will be able to post reviews of freelancers they've hired. LinkedIn is considering taking a cut of transactions as well as generating revenue by letting freelancers post ads, this person said.
Learn more here.