Meta takes a page from Twitter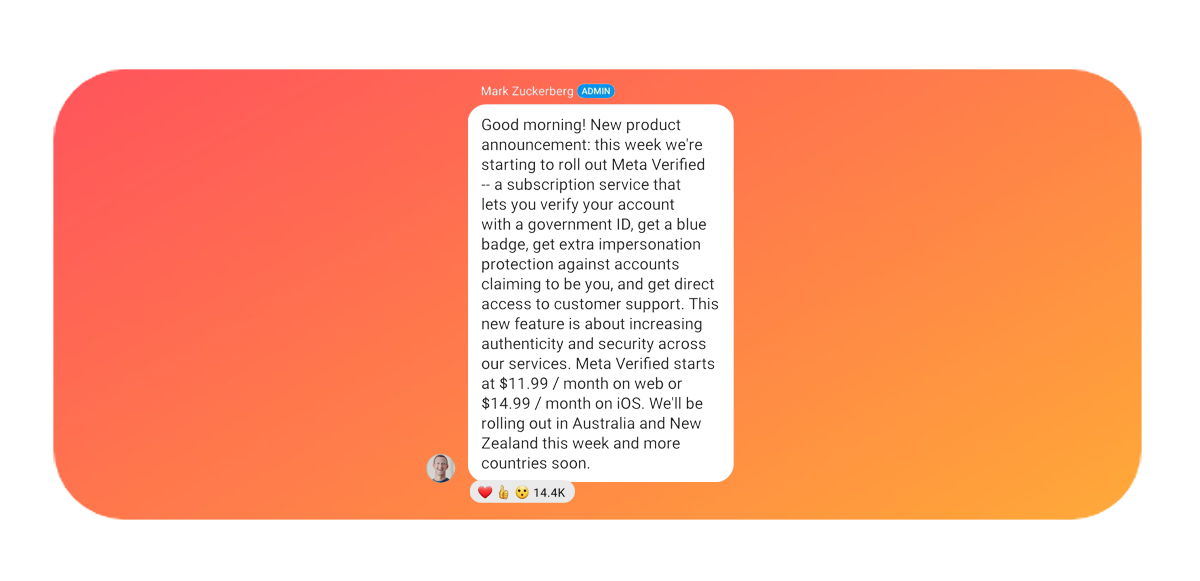 Instagram and Facebook creators, bummer news: The coveted blue checkmark you once earned with authenticity will now cost you $11.99 on desktop and $14.99 on iOS/Android per month (to offset App Store and Google Play Store commissions).
The move was expected. Meta has been suffering from severe stock slumps. And it's been rumored that the company is swinging its ax again, with more global offices poised for a brutal round of "quiet layoffs".
As announced by Chief Zuck through his brand-new 'Meta Channel', the subscription bundle — graced with the moniker (you guessed it) 'Meta Verified' — seems to come with plenty of perks:
Proactive account monitoring and prompt revisions of reported violations to protect subscribers from impersonation attempts
Direct customer support from real human agents
Boosted reach and increased visibility in search results, comments and recommendations
Exclusive stickers for Stories & Reels
100 free Facebook Stars per month
How to sign up? +18-year-old seekers of the blue badge must upload a government ID that matches the name and photo of the account they are applying for. In addition to meeting minimum activity requirements, described by Meta as "prior posting history". Users who were verified should not worry about going through this tedious process again.
There's a small catch here. If verified users want to change their profile name, username, picture or date of birth, they have to use the 'fast follow feature' to reapply for verification and update their information. However, this does not risk canceling previously paid subscriptions. 
With that said, we hope last year's Twitter flood of fake accounts won't be rewinded on Instagram and Facebook, as fears of a Twitter-esque frenzy of mis/disinformation multiply.
Let's wait and see how Kiwis and Aussies react to the overhaul, until more countries join the program!