Snapchat rolls out 'Spotlight' in MENA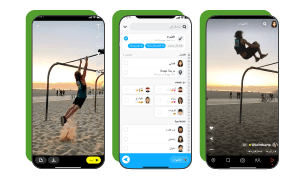 MENA Snapchatters now have the opportunity to put their most entertaining snaps under the spotlight, reach a much larger audience and earn money for their creativity!
Snapchat has launched a new Spotlight entertainment feature in MENA where it curates the most entertaining content from the Snapchat community in one place, and will allow it to better tailor the content based on users' interest over time.
Snapchat's general Manager in MENA, Hussein Freijeh, had this to say about the new feature:
"Spotlight is an exciting new addition, a result of careful thought and insight into what our community wants, likes, and values. It is also built with our privacy-by-design philosophy, with the wellbeing of our community front and centre. Our hope is that Spotlight continues to break down barriers to content creation and by democratising both distribution and the ability to earn, encourages Snapchatters to be creative and express themselves."
The new feature is now available in MENA across the following markets: Saudi Arabia, Egypt, Algeria, Morocco, United Arab Emirates, Jordan, Kuwait, Oman, Qatar, Bahrain, Palestinian Territory, Libya, and Iraq.
Learn more here