Twitter introduces Ticketed Spaces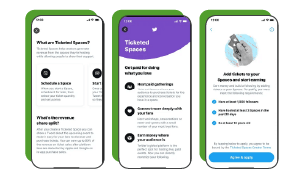 Twitter has been lately heavily focusing its effort on polishing its audio rooms platform, Spaces, and rolling out a range of new features with the aim of expanding usage.
On this note, the platform has announced Ticketed Spaces, a new feature that will enable users to earn money from the Spaces they're hosting on the platform, minus the app store fees.
There are specific criteria that one has to follow in order to be able to charge their followers for entry, where they have to have 1000 followers, have hosted three Spaces in the past 30 days, and be at least 18 years old.
The feature started rolling out in the US with other regions to follow soon.
Learn more here