Social Recap: December 2020 Trends & Platform Updates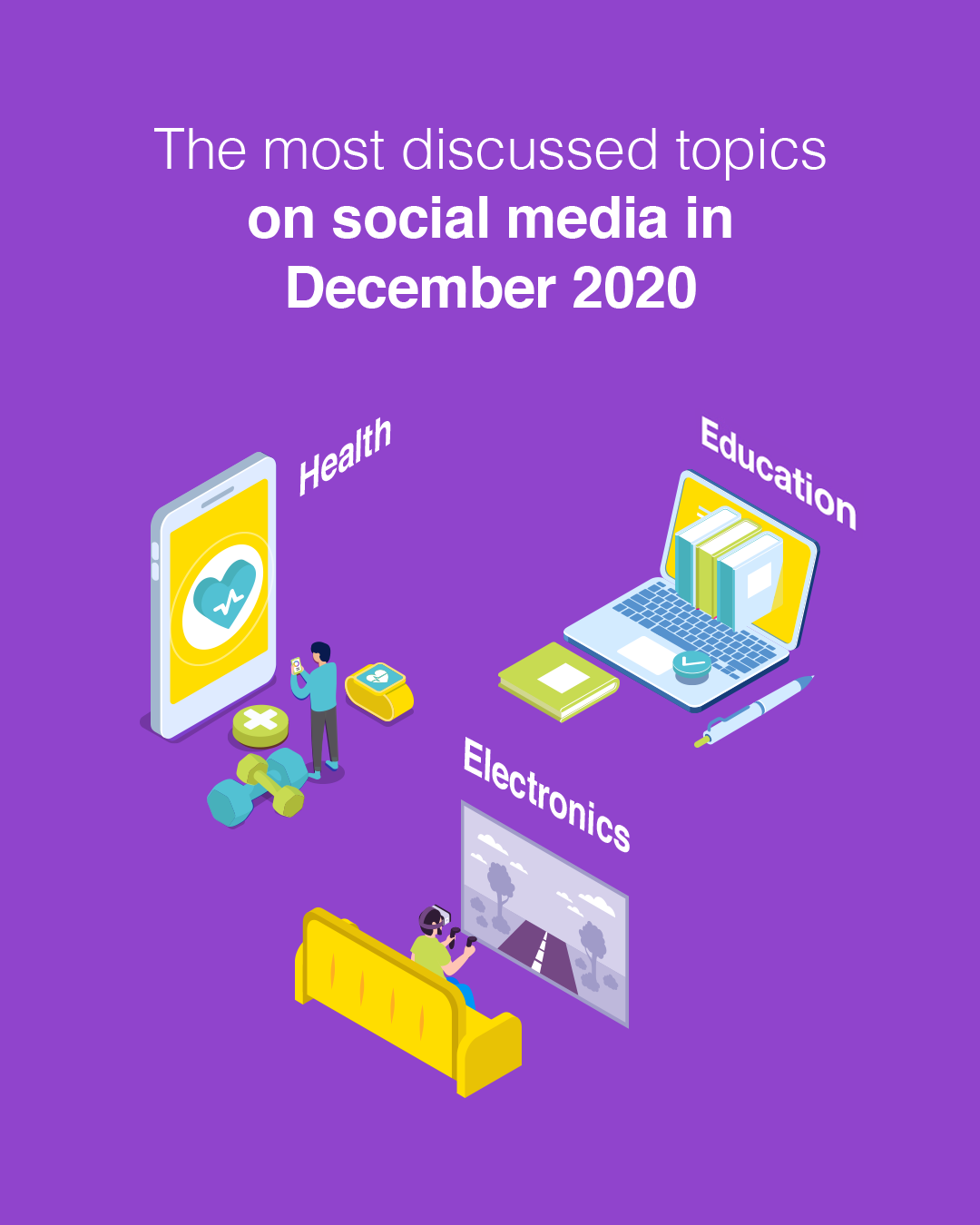 At the end of each month, we at Netizency study the popular conversations happening in social media across the Gulf to highlight the most relevant trends and analyze the discussions in the GCC's public sphere.
To do so, we've have identified a group of keywords in Arabic and English that define conversations according to most relevant industries in the region. We've classified them according to the volume of mentions and analyzed the topics of conversation across all social and online media from the GCC between December 1-31, 2020.*
What we found:
The top three most discussed topics were education, health, and electronics, in that order, followed by entertainment, malls & retail, and automotive.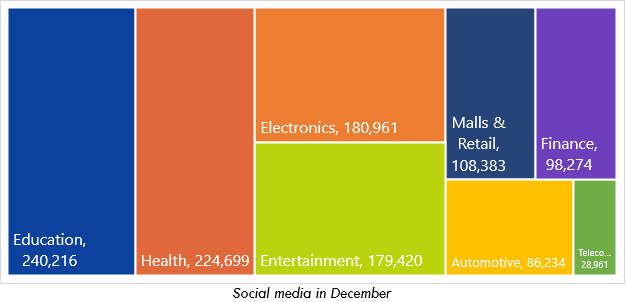 Education
Educational discussions are predominantly around the continuous challenges that school staff and students face amid the pandemic.
Notwithstanding the prolonged efforts by educational authorities in the Gulf, many students still find their education challenged by the current online and hybrid education systems.
Even though GCC nations have found their footing in dealing with the pandemic in general terms, schools across all educational levels continue to struggle with finding a balance between safety, performance, and satisfaction.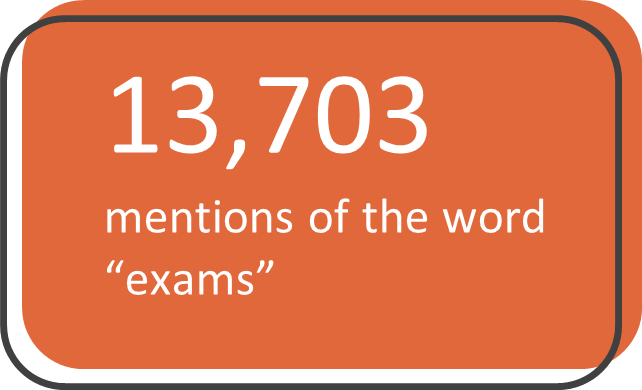 Each of the GCC countries has defined their own 'blended' learning formula between physical and online attendance for grade schools and universities. Yet, students continue showing their dissatisfaction with these online learning models as they foresee more screen burnout and mental health struggles. Many users across the Gulf consider that academic achievement at higher levels is considerably compromised by the stress and fatigue from online learning.
Universities that are implementing physical education components into their curriculum are also finding operational challenges. In one such case, numerous students from the University of Jeddah launched an online movement, using the hashtag #جامعه_جده_تخاطر_بطلابها, calling for their university's authorities to revise the examination procedures as their physical exam venues are prone to overcrowding, which in turn endangers the student community.
On a lighter note, users across the Gulf have taken the year ending as a chance to show their educational achievements during the 'Covid year'.
The quarantine months and its social distancing practices significantly boosted the number of books read, courses taken, and degrees finished – an undoubtedly positive outcome from an otherwise dire situation.
Health
Health conversations are characterized by their division: those positive and pertaining to the initial rollout of the vaccine, and those negative around second waves and a deadlier strand of the virus.
On one hand, an overwhelmingly positive conversation sprung up across Gulf nations hailing the arrival and initial rollout of the first, and officially certified, publicly available Covid vaccines.
Having been the host of numerous trials for months now, the UAE began two concurrent vaccination plans, one with the Chinese Sinopharm vaccine and the other with the Pfizer-BioNTech jab. Similarly, Bahrain is conducting its vaccination drive using the vaccines from the same two sources.
The rest of the Gulf nations have also started their mass vaccination campaigns, although exclusively using the Pfizer-BioNTech vaccine. All countries are implementing their campaigns in stages, prioritizing frontliners, the elderly, and those with preexisting conditions.
On the other hand, however, many users expressed their dismay at the news of a new strain of the Covid-19 virus. The new variant, reportedly more easily transmissible, appeared in the UK, Denmark, and other European countries.
In response to the new threat, Gulf nations such as Saudi Arabia, Kuwait, and Oman temporarily closed their borders to international travel for two weeks and have since reopened them. Other Gulf countries only increased restrictions for travelers from selected locations.
Many GCC citizens and residents worried about travel restrictions hurried back home in order to avoid being stuck for the holidays.
Electronics
The trendiest electronics discussions this month featured product launches from the biggest international tech companies.
Apple is back in the spotlight with another launch, this time an accessory: the luxurious AirPods Pro Max, the company's first foray into high-end audio. Made with its signature all-aluminum form, the headphones feature top-of-the-line audio and noise cancellation technology.
What could have been a resounding win, however, was tainted by an exorbitant price tag. Audio enthusiasts and regular users alike across the GCC complained about the $550 price, touting it as inaccessible.
Apple's premium headphones were not the only new product considered inaccessible, however. The global launch of Sony's flagship console, the PlayStation 5, is also filled with controversy as many retailers are experiencing very limited supply. The gamer community in the Gulf extensively complained about having to join several waiting lists.
In addition, some retailers are taking advantage of the undersupply to set abusive prices. In some countries, stores are selling the coveted console for even double its retail price.
Spotlight: Education
US First Lady-elect Jill Biden was at the center of the intersection between education and politics in December after an editorial from the Wall Street Journal attacked her educational qualifications.
Across the Gulf, many users took to social media to debate the article that argued that a PhD in social sciences and humanities should not be equivalent to the rank of 'doctor.' The conversation led to discussions around sexism in the workplace and reaffirmed the value of the wide range of educational degrees that are not related to the so-called 'hard sciences' – often looked down on in many Arab societies.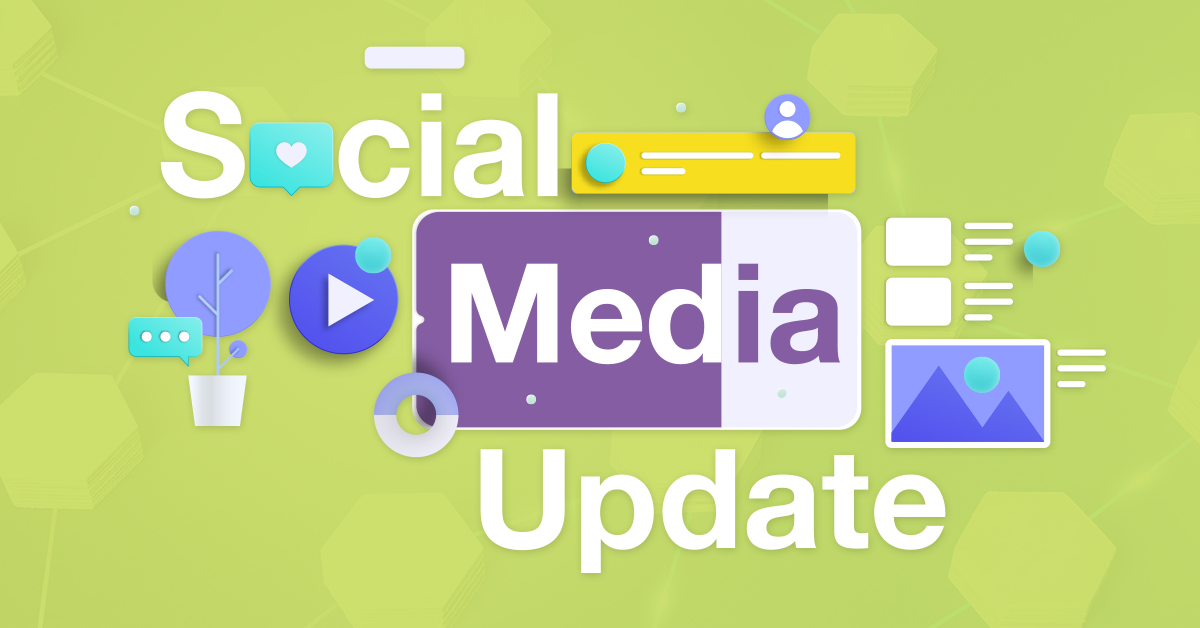 Platform Updates
Social media platforms are constantly changing and launching new features. We've compiled all the relevant updates for your business so you don't have to look for them yourself—if you'd rather learn more about new features insights on a recurrent basis, you can also subscribe to our weekly newsletter here.
The latest updates to social media platforms include:
Instagram:
Adds a FAQ option allowing business accounts to set up common questions in their private messaging feed
Considers adding a timer to Stories showing how long each one has left before it's gone
Tests sharing Reels to Facebook to be featured on FB's Watch and News Feed
Launches shopping tags for Reels, adding it to the shopping list including Stories, Live, IGTV, and the regular main feed
Introduces new tools for Reels, including a new watermark, audio mix, and voice over
Twitter:
Adds more misinformation warnings letting users know if they are about to like a tweet containing fake news
Relaunches account verification process, available on account settings in January 2021
Beefs up mobile account security with new physical key compatibility
Enables frequency capping to all ad campaigns to make sure your business ads are reaching to new users
Brings tweets to Snapchat and Instagram through new interactive embeds
Considers a new reply control enabling users to limit tweet replies to followers only
Introduces tool to turn off retweets
Starts testing 'Spaces', a new audio rooms feature
Snapchat:
Introduces the new Spotlight feed, its own take on the 'For You Page' containing the best curated content on the platform
Brings Google's 'Year in Search' showing 2020's key events via AR portal lens
TikTok:
Expands photosensibility accessibility features including a warning popup if a video has the potential to trigger an epilepsy seizure
Tests extending max video length to 3 minutes
Premieres on the small screen thanks to its new partnership with Samsung, bringing the platform's content to TVs in Europe
Launches new Small Business Resource Center with case studies, creative tools, and more
Tests shoppable live streams based on its deal with Walmart
LinkedIn:
Tests ads on Stories with a few advertisers before a global rollout
Expands Page admin roles, including 'Super Admin', 'Curator', and many other new Page administrator roles
Introduces new 'Products' Tab for brands to showcase their merchandise directly in their Company Page
YouTube:
Automates video chapter creation with the help of its machine learning prowess
Google:
Adds messaging features to Google Maps and Search giving business a direct contact line with customers
Releases new Shopping Gift Guide with the top trending gifts for the holidays
Adds new AR 'Try-on' ads within Google Shopping, enabling users to virtually try on products at the comfort of their home
WhatsApp:
Rolls out 'Carts' to simplify in-app shopping abilities and expand the app's eCommerce potential
Reddit:
Acquires Dubsmash, a lip-synch short form video app to compete with TikTok
*This article was originally published by Communicate ME as a two-part piece. Access the trends part here and the platform updates part here.