Social space: A roundup of all the GCC social media news in May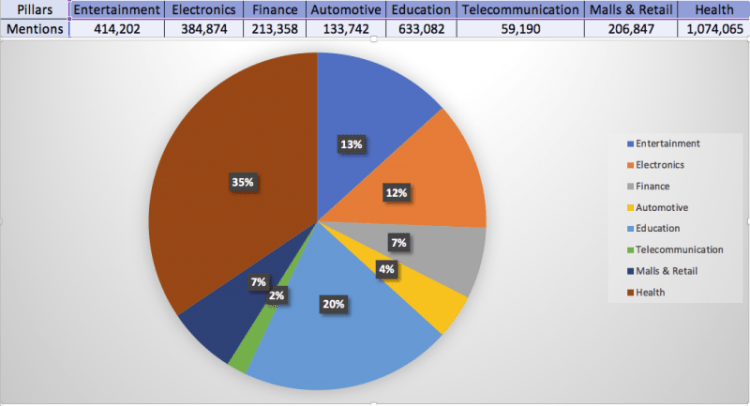 The top three most discussed topics were electronics, health, and education in that order followed by entertainment, malls and retail, and finance.
Electronic discussions were focused around the digitisation of retail as many outlets brought their services to online platforms to offset the changing dynamics of public spaces shaped by social distancing policies. In addition, conversation centred on the release and operation of national contact tracing apps and the controversy related to their privacy concerns from always-on location settings and wide app permissions.
There was also an overlap of discussion around electronics and politics as users debated the limits of freedom of speech moderated by social media platforms surrounding US President Donald Trump's executive order to take control over liability of online speech.
Health discussions revolved around the best practices to stay safe during Ramadan and Eid al Fitr under quarantine as well as updates about success stories, official statistics, and continuous developments of the fight against Covid-19. As some Gulf nations begin to ease up social distancing lockdowns, many discussed the best practices to stay healthy while transitioning to a 'new normal'.
Educational discussions were about the difficulties of holding standardised massive testing for grade students, the limitations of current e-learning tools and practices, and the steep learning curve for both parents and educators of the transition towards remote schooling.
Entertainment conversations were mainly around the yearly hype of Ramadan series prominently featuring Mohammed Ramadan's Al-Prince, this year's hit show. Another staple of popular culture, some Ramadan ads from the Middle East's biggest brands took the spotlight while others, like Cottonil's Bint Al Geran ad, received scorn. Additionally, conversation continues to show the solidification of the favorite 'quarantine media': TikTok stars, celebrity livestreams, Netflix binge-watching, and ever-wider-reaching podcasts.
Other hot topics included the financial consequences of the economy's slowdown due to the Covid-19 pandemic, government spending cuts, layoffs, and business closures.
We have identified a group of keywords in Arabic and English that define each of the pillars highlighted above. We then conducted a social listening exercise for these keywords across all social and online media from the GCC between May 1-31, 2020. We then calculated the volume of mentions for each pillar, and analyzed them to highlight the most popular topics under each pillar.
The latest updates to social media platforms include:
Facebook:
Adds 'Hit Me Up' sticker to drive more intimate engagement
Tests introducing ads in pre-vetted live streams
Makes Messenger Rooms officially live to everyone around the world
Launches 'Shops', the platform's formal eCommerce initiative
Tests new AI-powered shopping features for Marketplace
Releases 'CatchUp', an experimental app to connect through phone calls
Introduces 'safety notices' for Messenger to warn about accounts with suspicious activity
Brings back polls in Messenger with a fresh look and new colors
Instagram:
Introduces 'Live Donations' to raise funds for NGOs during livestreams
Tests 'DM Me' sticker to drive more intimate engagement
Adds new font and color formats to Stories
Prioritizes showing content from health organizations in Stories
Considers tweaking Stories navigation system to allow quicker switching
Enhances its policies against bullying enabling bulk deletion of negative comments
Universally rolls out sharing Live stream videos directly to IGTV
Integrates with Messenger Rooms to allow creating calls with IG friends
Twitter:
Redesigns replies layout adding lines and indentations
Adds new labels, warnings, and clarifications for COVID-19 misinformation
Formally releases update showing retweets with comments listings
Tests new conversation settings allowing users to limit who can reply to their tweets
Redesigns how the platform displays embedded tweets
Considers 'audio tweets' as a future concept named 'Hear and Now'
Tests design changes related to DMs on desktop
Snapchat:
Introduces premium ad offers for placements in the platform's top programming, including Will Smith's 'Will From Home' web series
Improves tools for Creators including a new analytics layout and 'quoting' features
TikTok:  
Rolls out 'Donation' stickers to raise funds for select non-profits without leaving the app
Adds new video trimming tools
LinkedIn:
Launches AI-powered video interview training tool adapting to digital recruiting
Merges Livestreams and Events enabling admins to host live events seamlessly
Upgrades Sales Navigator to improve outreach efforts of Business Pages
Considers developing new reactions more suitable to show empathy to current events
YouTube:
Experiments with 'Products in this Video' feature to show the items featured in clips
Allows news publishers to sell their own subscriptions in their YouTube channels
Adds new ad placements for TV streaming as well as new brand lift survey options
WhatsApp:
Expands end-to-end encrypted video call limit to 8 people
Introduces fake news chatbot to debunk COVID misinformation
Tests implementing QR codes as a way to share contact cards
Google:
Makes its video call service Meet free for all until September 30
Rolls out Podcast Manager providing useful insights about podcast audiences
Launches Rising Retail Trends to track changes on consumer behavior
Enhances Lens app to allow creating documents from handwritten text
Adds badges on Business listings to show contactless shopping options
Introduces tab groups and color coding in Chrome
Creates new COVID-19 hub grouping all resources available to businesses
Zoom:
Acquires privacy company Keybase to add end-to-end encryption to calls
*This article was originally published on Gulf Business here.