TikTok introduces Transparency Center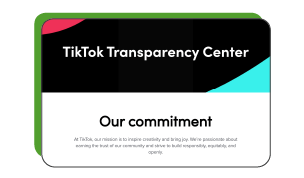 TikTok released their "Content Removal Requests Report", which details all of the uploads that it took action against in the first half of the year due to violations of its community guidelines or other official and/or legal requests.
The platform also launched a new "Transparency Center" that makes it easier to view historic shifts, and compare the platform's enforcement efforts over time.
With the ban of fake accounts, content violation and illegal activities, brands will continue to feel safer in sharing their content on TikTok.
Learn more here