TikTok Kitchen: A new chain of delivery-only restaurants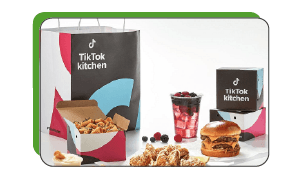 You will soon be able to order the baked feta pasta recipe straight from TikTok and have it delivered to your doorstep!
TikTok is preparing to open a chain of delivery-only restaurants (in the US only for now) with menus that include the most popular viral food recipes on the platform that users can order & enjoy.
TikTok is making this possible through partnering with two different companies, Virtual Dining Concepts (VDC) and Grubhub. The 'Virtual Restaurant' will simply utilize kitchens and staff of other restaurants to prepare the dishes, and they will be delivered to the customer's doorstep through Grubhub. TikTok is planning to update their menu on a quarterly basis to include new items that have been gaining momentum.
This might be an especially promising addition for food-related content creators, as they will now be able to monetize their viral content – TikTok promises them half of the food sales profits.
Additionally, this move will increase the buzz around TikTok as a brand and promote eCommerce on the platform in the hopes of establishing sustainable transactional behaviors.
Learn more here.