TikTok tests a 'tips' feature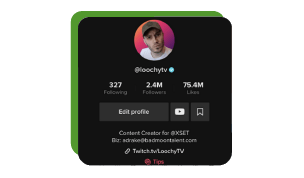 Some TikTok creators now have a 'tips' button in their profiles, an option where they can generate direct income from their fans. This feature is a part of other monetization options the app previously introduced, such as virtual gifts and creator shoutouts – all of which use pre-purchased in-app coins.
The rules for this option are that the creator must have at least 100K followers, and their account must be in line with TikTok's rules and regulations. TikTok claimed that it will not take any portion of the creator's tips, at least while the option is still under testing.
This option comes in an effort to allow TikTok to compete with other apps that have more profitable revenue programs, specifically ones associated with long-form videos. TikTok is also looking at facilitating brand partnership deals as another monetization option. Potentially, as the tips feature develops and drives more creators into the app, brands and businesses will be able to capitalize on the increased traffic on the app – an option that will also be improved as TikTok puts more effort into partnership options.
Learn more here