Twitter experiments with a new 'CC' button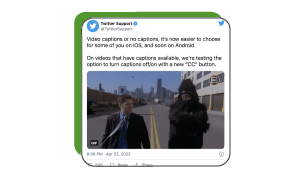 Coming up with functionalities that let users create accessible content for everyone is currently a key focus for social media platforms. We've seen such efforts from different platforms lately including TikTok's default English auto-generated captions, and YouTube's new 'Subtitle Editor' role.
Twitter has also joined the bandwagon, live testing a new closed caption button to be shown at the top right of a video allowing users to switch available captions on/off.
This feature includes different pros ranging from enhancing content accessibility to ultimately allowing more users to engage with tweets.
The new CC toggle is currently being tested on iOS, with Android set to follow soon.
Find out more here.