Twitter launches new 'Transparency Center'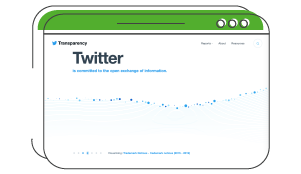 Along with issues related to civil rights, hate speech, and censorship, the Black Lives Matter protests have brought concerns about regulatory transparency to the fore. While all social media platforms have regulations in place, the public is often unaware of these regulations and how or if they are enforced.
To make all of this more accessible, Twitter has launched a new website named 'Transparency Center'. Using the data from their biannual Transparency Reports, the platform helps users visualize how Twitter administers their community regulations.
The Transparency Center not only shows data, but also organizes it according to time frame and country. It features, as explained by Twitter:
Data visualizations making it easier to compare trends over time
Country comparison module
Tooltips to help explain key terms and provide more insights on the terms we use
History of transparency milestones and updates
New metrics and methodology on the enforcement of the Twitter Rules (from July 2018 through December 2019)
New policy categories to better align with the Twitter Rules
Learn more here.