What's on the horizon for Twitter ad placements?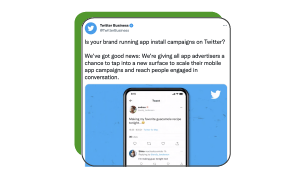 As previously mentioned, Twitter has already launched a new form of ads. 
The platform is now expanding on ad placements, starting with campaigns related to app installs on both iOS and Android. 
The ads will be placed directly beneath tweets. Instead of seeing an ad while you're scrolling through your timeline, you will find it under a tweet. That's right—the ad will be right there in the conversation! This is an additional ad option to the ones already existing on the platform.
This gives advertisers the chance to reach users who are engaged in a relevant conversation, and attract them to their products or services.
Twitter still needs time to target the right audience based on keywords, but the potential to reach the most interested users is great.
In other news, Musk has been exploring the monetization of embedded tweets, to increase Twitter usage by allowing creators to maximize revenue.
This could be really exciting for content creators who have built up their follower base organically through their work on the platform!
Read more here.