Facebook's Canvas gets a re-name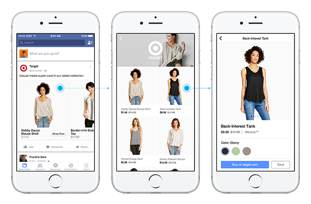 Facebook is changing its Canvas ads' name to 'Instant Experience', and adding a range of capabilities that go along with the new name and what the ad solution offers.
The platform already provides a range of templates for Instant Experience that fit different businesses' objective, namely Instant Storefront, Instant Lookbook, Instant Customer Acquisition and Instant Storytelling. It is also adding a new template to the range, called Instant form, which enables brands to ease the process by which people share their contact information.
The social media giant has also revealed that businesses can now integrate the Facebook Pixel and third-party pixels into their Instant Experience ad. This is great as it will allow businesses to understand their customers' progression from seeing an Instant Experience ad to completing a purchase. It will also open new horizons for businesses to re-engage with customers who have interacted with the ad, track engagement and compare performance with other campaigns.
With Facebook taking the wrapping off all these changes, it might be worth considering Instant Experience ads in upcoming campaigns especially with Facebook claiming that "the number of Instant Experience campaigns has more than doubled over the past year, and content now loads 15 times faster than standard mobile websites."
Read more here.