LinkedIn unveils Carousel ads for Sponsored Content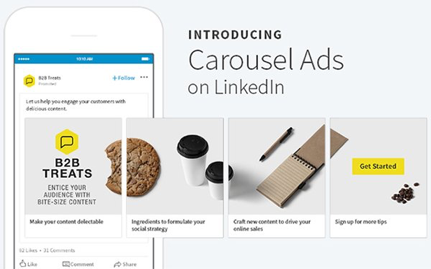 LinkedIn has finally followed social media sites into the fray and introduced Carousel ads for Sponsored content.
Through Carousel ads, brands will be able to feature swipeable series of up to 10 cards that they could use for different reasons, such as: telling a deeper story, sharing industry insights, featuring a single offering in details or showcasing different offerings at once.
For now, Carousel ads can only include images, videos are not an option yet. As for analytics, advertisers will have the standard metrics for measuring a campaign's performance, such as number of leads, click-through rate, in addition to clicks and impression metrics for each card within the app.
Read more here.