Multiple feeds on Facebook are coming your way!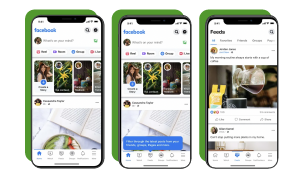 Meta's imitation game continues…Oh what a shocker.
Meta is launching a new 'Feeds' tab for Facebook and revamping its 'Home' tab into a TikTok-esque experience.
The new experience aims to give users the best of both worlds; the 'Home' feed will show them recommended content based on their interests, and the 'Feeds' tab will allow them to browse content from their friends and family in a chronological order (hooray!). Moreover, the 'Feeds' tab will include different categories, such as 'Favorites', 'Friends', 'Groups', and 'Pages'.
Mark Zuckerberg announced the new feature as follows:
'One of the most requested features for Facebook is to make sure people don't miss friends' posts. So today we're launching a Feeds tab where you can see posts from your friends, groups, Pages and more separately in chronological order. The app will still open to a personalized feed on the Home tab, where our discovery engine will recommend the content we think you'll care most about. But the Feeds tab will give you a way to customize and control your experience further.'
The new 'Feeds' experience has started rolling out for users on both iOS and Android.
Learn more here.